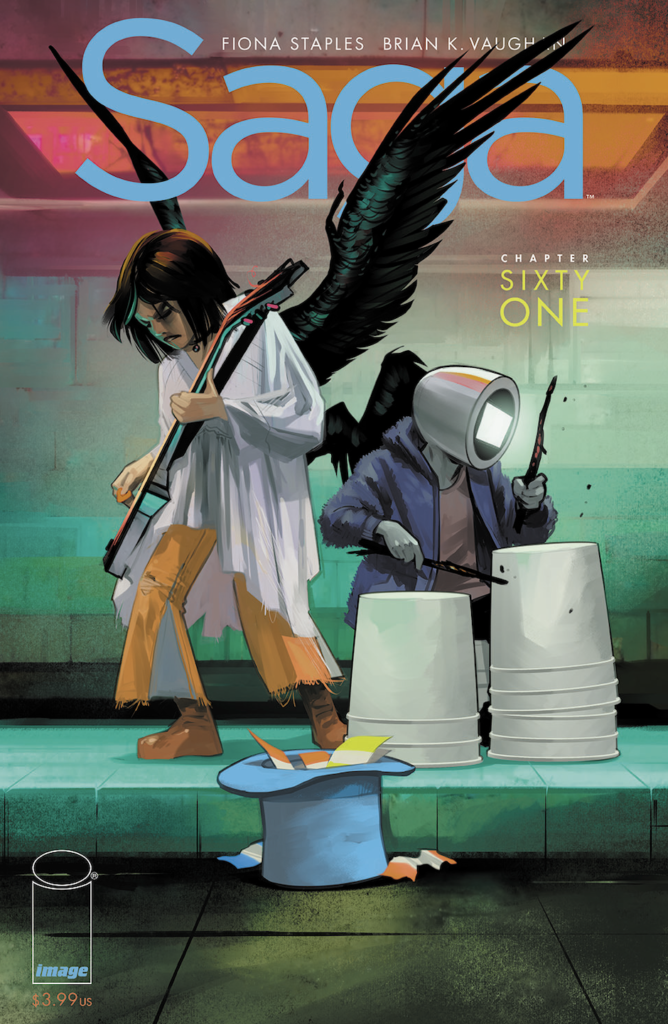 The bestselling, award winning Saga by Brian K. Vaughan and Fiona Staples will kick off a highly anticipated new story arc in January 2023 from Image Comics.
"We're back! No spoilers, but Fiona and I are extremely excited about some of the familiar faces returning in this shocking new 'season' of Saga," said Vaughan. "Times might be tough for Hazel and her family, but the best is yet to come."
In the upcoming Saga #61, readers are treated to another epic season of emotional adventures and shocking surprises for Hazel and her star-crossed family. It will pick up where the recent Saga, Vol. 10 trade paperback release (collecting Saga #55-60) left off.
The Saga series has sold seven million copies to date across single issue, trade paperback, compendium, hardcover, and digital editions and has been translated into 20 languages.

The series also boasts many awards including Harvey Awards, a Hugo Award, British Fantasy Award, Goodreads Choice Award, Shuster Award, Inkwell Award, Ringo Award, and has the record for most Eisner Award wins in the "Best Continuing Series" category. It has been featured in such mainstream media outlets as TIME, Entertainment Weekly, The Atlantic, NPR, and more. The series has become a pop culture phenomenon and has been immortalized with references and easter eggs appearing in such popular TV shows as Supernatural, The Big Bang Theory, The Simpsons, and even a recent Taco Bell commercial featuring the characters dressed in cosplay.
Saga #61 (Diamond Code NOV220102) will be available at comic book shops on Wednesday, January 24. Saga is also available across many digital platforms, including Amazon Kindle, Apple Books, and Google Play.