Episodic Game Series based on DC's Iconic Character to Premiere This Summer
SAN RAFAEL, Calif., June. 12th, 2016 — Leading developer and publisher of digital entertainment, Telltale Games, with Warner Bros. Interactive Entertainment and DC Entertainment, today unveiled the first look at BATMAN – The Telltale Series ahead of its worldwide debut this summer.
The episodic game series will premiere digitally on home consoles, PC/Mac, and mobile devices, and will be shown to guests attending the annual E3 Gaming Expo this coming week in Los Angeles. The series will also be available on game consoles as a special 'Season Pass Disc' which will be available at retailers across North America, Latin America, and Europe later this summer, granting access to the five episode season as it becomes available for download.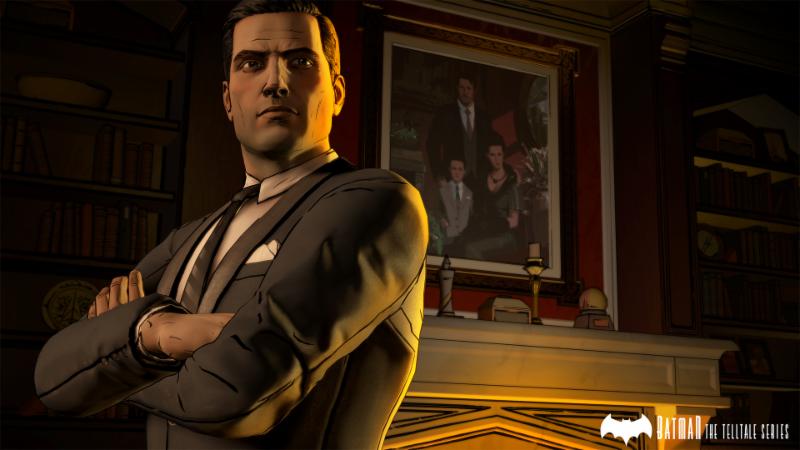 "We've been hard at work at Telltale creating an all-new iteration of the iconic Batman story that puts players in the suit of billionaire Bruce Wayne, just as much as it will put them behind the mask, deciding how to carefully navigate a complex drama, rich with action, crime, corruption, and villainy lurking around every corner of Gotham City," said Kevin Bruner, Co-Founder and CEO of Telltale Games. "The complex life and fractured psyche of Bruce Wayne has lent itself to becoming a bold evolution of the signature 'Telltale' role-playing experience, and we couldn't be more excited as we prepare to debut the series to players across the world this summer."
Rendered to look like a living, breathing comic book, Telltale's vision of Batman will feature an award-winning cast of talent, including Troy Baker in the role of Bruce Wayne, Travis Willingham as Harvey Dent, Erin Yvette as Vicki Vale, Enn Reitel as Alfred Pennyworth, Murphy Guyer as Lieutenant James Gordon, Richard McGonagle as Carmine Falcone, and Laura Bailey as Selina Kyle. Additional cast and characters will be revealed as the season progresses.
For more information on Telltale Games, and more news surrounding the series, visit the official website, Facebook, and follow Telltale Games on Twitter @TelltaleGames.
About Warner Bros. Interactive Entertainment
Warner Bros. Interactive Entertainment, a division of Warner Bros. Home Entertainment, Inc., is a premier worldwide publisher, developer, licensor and distributor of entertainment content for the interactive space across all platforms, including console, handheld, mobile and PC-based gaming for both internal and third party game titles.
About DC Entertainment
DC Entertainment, home to iconic brands DC (Superman, Batman, Green Lantern, Wonder Woman, The Flash, etc.), Vertigo (Sandman, Fables, etc.) and MAD, is the creative division charged with strategically integrating across Warner Bros. and Time Warner. DC Entertainment works in concert with many key Warner Bros. divisions to unleash its stories and characters across all media, including but not limited to film, television, consumer products, home entertainment, and interactive games. Publishing thousands of comic books, graphic novels and magazines each year, DC Entertainment is one of the largest English-language publishers of comics in the world.
About Telltale, Inc.
Telltale is a leading and award-winning independent developer and publisher of games for every major interactive platform from home consoles and PC to mobile and tablet devices, and is the pioneer of the episodic delivery of digital gaming content. By successfully developing games as an episodic series and frequently releasing in the format of a game season, they create longer consumer engagement than traditional games for each release. Founded in 2004 by games industry veterans with decades of experience, Telltale has quickly become an industry leader with numerous honors and awards from the Academy of Interactive Arts and Sciences, BAFTA, SXSW, the IMGA, and more, as well as being named Studio of the Year across multiple years. Telltale's reputation for quality has been established across more than two dozen different product releases over the years with recognition and acclaim from publications like IGN, The New York Times, and Variety, including over 100 "Game of the Year" awards from publications like USA Today, Yahoo! Games, Wired, Spike TV VGAs, E!, Official Xbox Magazine, The Telegraph, Metacritic, and more. Telltale is a fully licensed third party publisher on consoles from Microsoft, Sony, and Nintendo, and also publishes games on the PC, Mac, iOS, and Android-based platforms. For more information visit www.telltalegames.com.