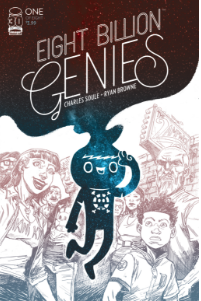 Last week, Hollywood Reporter announced that Amazon Studios has acquired the development rights to Charles Soule and Ryan Browne's bestselling comic book series, Eight Billion Genies, after a heated auction.
The first project coming out of the deal is a feature film, which will be executive produced by Soule and Browne and serve as the cornerstone in a cross-media Universe of storytelling.
Charles Soule and Ryan Browne are represented by Angela Cheng Caplan of Cheng Caplan Company and Eric Feig of Feig Law.
The Eight Billion Genies comic book series asks, If you had one wish… what would you wish for? Now, what if everyone else on the planet had one wish too? At exactly the same moment, everyone on earth gets a genie and one wish. Eight seconds later, the world has transformed forever…and that's just the beginning.

The comic series is available now in print at comic book shops and digitally across many platforms, including Amazon Kindle, Apple Books, and Google Play:
Eight Billion Genies #1 – Diamond Code MAR220018
Eight Billion Genies #2 – Diamond Code APR220186
And coming soon:
Eight Billion Genies #3 – Diamond Code MAY220220 – on sale Wednesday, July 13
Eight Billion Genies #4 Cover A by Browne – Diamond Code JUN220264 – on sale Wednesday, August 10
Eight Billion Genies #4 Cover B by Christian Ward – Diamond Code JUN220265 – on sale Wednesday, August 10