New Ongoing Series!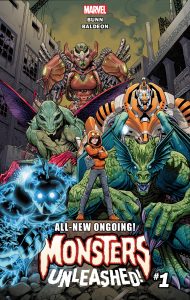 Their appearance hasn't gone unnoticed – as everyone from the Avengers to S.H.I.E.L.D. to Damage Control wants to shut them down!
"Kei and his monsters are under a lot of scrutiny from the heroes of the Marvel Universe, government agencies such as S.H.I.E.L.D. and corporate entities like Damage Control," says writer Cullen Bunn in an interview with Marvel.com. "And it's not just the forces of good who are paying attention to Kei and his monsters. There is a sinister cadre of villains who are very interested in Kei and his unusual abilities."
Can the denizens of the Marvel Universe accept a team of massive marvelous monsters in their midsts? Or will they be deemed too dangerous to be left unchecked? Either way – they're here to stay! Follow their adventures this April when Bunn and Baldeon bring you the all-new ongoing series, MONSTERS UNLEASHED #1!
MONSTERS UNLEASHED #1
Written by CULLEN BUNN
Art by DAVID BALDEON
Cover by ART ADAMS
On Sale in April!