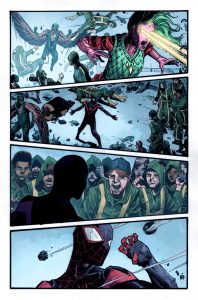 A crucial SECRET EMPIRE chapter that bridges issues #3 and #4 of the Marvel Comics event. YOur First Look.
New York, NY—May 5, 2017—Hydra has taken over. The Black Widow has a dangerous plan to take them down, and it may require the heroes of the Marvel Universe to cross a line they never thought they would. Helmed by Derek Landy, writer of the blockbuster, award-winning Skulduggery Pleasant series, with art by Joshua Cassara (New Avengers) it's time for Natasha Romanoff to unite the next generation of Marvel heroes against the oncoming forces of Hydra with SECRET EMPIRE: UPRISING.
"One of the overriding themes in SECRET EMPIRE: UPRISING is for the heroes not to make the same old mistakes all over again," said Landy. "The Champions, for instance, are looking for non-violent ways to stop violent opponents, and that ethos spills over into Uprising. How do a bunch of super-powered kids, brimming with optimism, factor in the Black Widow's dark agenda when confronted with Captain America's role in the Hydra takeover of America? What are they willing to do? How far are they willing to go?"

An integral installment in the Secret Empire saga, SECRET EMPIRE: UPRISING enlists the younger heroes of the Marvel Universe – Miles Morales, a.k.a. Spider-Man, Ironheart, Wasp, Amadeus Cho, Falcon, and Viv Vision for a dark-ops mission no one – not even the heroes themselves –are prepared for.
"Bridging Secret Empire #3 and #4, 'Uprising' is an absolute can't-miss issue that illuminates a path for the heroes of the Marvel Universe to stand up and resist the forces of Hydra," said Marvel SVP & Executive Editor, Tom Brevoort. "But what is the price for freedom and are the younger heroes willing to pay?"
Can Black Widow forge these champions into a new elite strike team against Hydra's forces? Or will her time run out and send the younger heroes into the fight unprepared for what's to come? Be here this May when the age of innocence ends and the next generation is forced to take a stand in SECRET EMPIRE: UPRISING from Derek Landy, Joshua Cassara, and Marvel Comics.