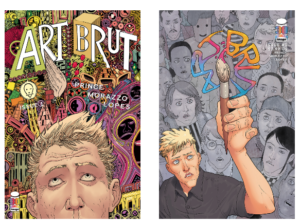 The first major work from W. Maxwell Prince and Martín Morazzo of Ice Cream Man fame will come to Image Comics this December—fully re-lettered, remastered, and re-titled as originally intended—Art Brut.
This NPR-lauded series was first published under the title, The Electric Sublime, and will be brought to a whole new audience of readers through this carefully-crafted revision.
"How lucky we all are, to have Arthur Brut keeping watch over the world of art and keeping us all safe. A lot of people don't know he exists, but we're happy to remedy that this December," said Prince in an exclusive on the announcement at Popverse.
The world of fine art is falling apart, and only Art Brut knows how to fix it. Alongside the Bureau of Artistic Integrity, Art Brut follows the titular Arthur Brut the Mad Dreampainter (and his trusty sidekick, Manny the Mannequin) as they dive back into the very paintings that made him insane…in order to save reality itself from crumbling.
Morazzo added: "Art Brut mixes two things I love the most: comics and fine arts, so it's not a surprise it's one of my most dearest works! I'm smiling from ear to ear knowing everybody will be able to read it soon!"
A colorful, gonzo romp through art and art history, Art Brut is equal parts police procedural, hyper-fantasy, and psychological thriller—a veritable Pollock-splatter of comics genres tossed onto one giant pulpy canvas. Each issue features new covers, new design, and a new Silver Age-style backup story featuring the art hero that no one's ever heard of—until now.