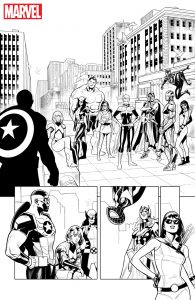 The Generations series concludes with an epic team-up.
New York, NY—August 29, 2017— Throughout the course of Marvel's GENERATIONS, our heroes have traveled to different lands and they've had a chance to meet their heroic counterparts and inspirations. Now, two of Marvel's most iconic characters are about to finally stand beside each other, as the GENERATIONS saga reaches its epic conclusion in GENERATIONS: SAM WILSON CAPTAIN AMERICA & STEVE ROGERS CAPTAIN AMERICA #1.
Written by Nick Spencer (Secret Empire) with art by Paul Renaud (Captain America: Sam Wilson), the final chapter of Marvel's GENERATIONS series finds Sam Wilson in a familiar situation: fighting alongside Steve Rogers. This Captain America, however, is a little different than the one who has grown to give the world hope.
"GENERATIONS: SAM WILSON CAPTAIN AMERICA & STEVE ROGERS CAPTAIN AMERICA is the capstone to Nick Spencer's epic run on both incarnations of the star-spangled hero, his final statement on what it means to be Captain America, as Sam Wilson finds himself in a war not his own alongside a very young man who's been given the opportunity to fight and to inspire—but who could use a little bit of inspiration himself," said SVP and Executive Editor Tom Brevoort.
Featuring appearances by nine other GENERATIONS characters including Kamala Khan, Miles Morales, Captain Marvel, and Thor, it's a story that sets the stage for the future of the Marvel Universe, and one you'll only find at the Vanishing Point – and at your local comic shop.