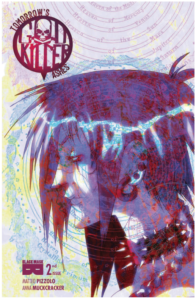 Aya Cash (The Boys, You're the Worst) will take on the voice role of a god-hunting dark witch in the narrative-videogame adaptation of beloved, bestselling comic series Godkiller by writer Matteo Pizzolo (Calexit) and artist Anna Wieszczyk (Home). Pizzolo, who penned the screenplay adaptation of his Calexit comic that sold in a 5-studio bidding war and is currently producing the feature adaptation of Black at Warner Bros., will write the adaptation.
Following her role as the villain Stormfront on The Boys, Cash will perform the Godkiller role of Bones, an anti-hero sorcerer who survives her world's descent into dystopia and leads a vendetta against the cruel men and strange deities responsible for the end of the world.
Produced by Emmy-winner Brian Giberson (Power On: The Story Of Xbox), the project leads a new gaming initiative at Black Mask Entertainment, the busy production arm with more than two dozen features and series in development at studios and networks.
Pizzolo and Wieszczyk self-distributed the Godkiller' comic at comic cons starting in 2008, where it grew in notoriety leading to a Warner Bros.-distributed animated feature written and directed by Pizzolo in 2011. The comic book returned through publisher Black Mask Studios with 2021's 'Godkiller: Tomorrow's Ashes' to overwhelming success, selling out of a 40,000 book print run on the day of its release and going on to sell through numerous additional printings. It quickly became one of the top-selling indie comic books of the year, and Black Mask's all-time bestselling series.
Godkiller will next return to comic shops in September with the brand new series 'Godkiller: For Those I Love I Will Sacrifice.'
Aya Cash is represented by UTA and Industry Entertainment.
Matteo Pizzolo is represented by WME and TFC Management.