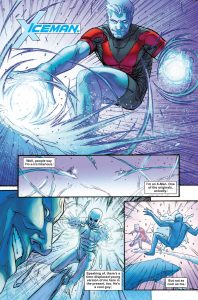 New York, NY—May 12, 2017— This June, Bobby Drake steps out into the cold with an all-new solo X-Men series written by Sina Grace (All-New X-Men Annual, Self-Obsessed) coupled with artwork by Alessandro Vitti (Avengers Arena, Secret Warriors) with Marvel Comics' ICEMAN #1.
Bobby Drake has been in the Super Hero game longer than most – one of the original X-Men, a founding member of the Champions, and discovered to be an Omega-level mutant, but while reflecting on all he's accomplished over the years, he realizes that the legacy he's built can be so much more.
"Iceman has one of the most tenured legacies as a Marvel Super Hero and was one of the originators of the modern Marvel Universe," said series writer Sina Grace. "As a lifelong X-Men fan (I've got the dog-eared floppies to prove it!), writing Iceman has been the greatest and most challenging project I've been lucky enough to work on. Writing this series has been like making best friends with someone who's been in my class for years, but I never took the time to ask how they were doing. Turns out, Bobby Drake has a LOT to say paired with a LOT of achievements he's still looking to unlock."
Also added to the mix, a younger version of himself has emerged from the timestream and he's more put together than Bobby ever was: already a world-class hero in his own right, but also totally comfortable in his own skin, complete with a relationship with a handsome Inhuman to boot.
In this new ongoing series it's time for Bobby Drake to realizes that it's now or never, and sets out to build a life and legacy he can be proud of…and be the best ICEMAN he can be.