Marvel Artists Tag Team With Capcom For Covers Inspired By Game Characters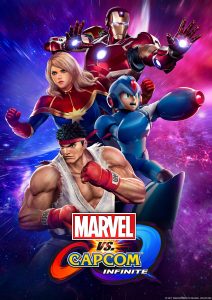 New York, NY—May 17, 2017— It's time for heroes and villains to collide as one of gameplay's most epic team-ups brings its characters to the front lines – of comic books. Marvel is pleased to announce a series of Marvel vs. Capcom: Infinite Variant Covers, inspired by and featuring characters from the popular game. Marvel vs. Capcom: Infinite will be released on September 19th, but you can find these variants in comic stores throughout the month of August.
"Fight fans, if you can't wait until September 19th to see heroes from two awesome universes collide in Marvel vs. Capcom: Infinite, we're bringing you a sneak peek one month earlier when the battle explodes onto the covers of your favorite comics," said Marvel Games executive creative director Bill Rosemann. "The game makers at Capcom and Marvel are working closely with a team of the industry's top talent to deliver all the over the top intensity you've come to expect from this fan favorite franchise."
This summer, the popular Marvel vs. Capcom series is brought to life in comics. Don't miss your chance to be a part of the action with these awesome and stunning variant covers – enhance your collection with all 20 covers coming to comic shops this August.