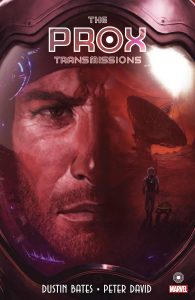 New York, NY—June 15, 2017— Marvel Comics is proud to announce a unique collaboration with Dustin Bates, lead singer and founder of the multi-media, modern rock band Starset, along with fan-favorite writer, Peter David (Ben Reilly: Scarlett Spider, Spider-Verse) for an all-new original 88-page graphic novel, THE PROX TRANSMISSIONS.
Inspired by the likes of Nikola Tesla and Carl Sagan, Starset's albums, along with videos, websites, novels and one-of-a-kind live performances, were created as part of the over-arching concept, The Starset Society. Where science and fiction collide, The Starset Society is dedicated to publicizing emerging, near-future technologies and investigating their inevitable social, economic, political, and philosophical impact on society. Through this enlightening exploration, The Starset Society has teamed up with Marvel Comics to produce a one-of-a-kind adventure like nothing seen before.
A secret transmission from the far reaches of the galaxy falls into the hands of SETI radio astronomer Dr. Stephen Browning. His world begins to unravel as he discovers the cryptic message including information of advanced technology and a dire warning from the future. After Browning seeks aid of brilliant-yet-impetuous playboy Dr. Aston Wise, the two set off on an epic journey to discover the meaning of the transmission, only to discover that they are pawns in a much bigger game. Humanity hangs in the balance as powerful forces vie for control of the future, with only Wise and Browning to stop them.

"I'm incredibly excited to have the opportunity to create this graphic novel with Marvel Comics on behalf of The Starset Society," said Bates. "I've been a fan of Marvel since I was a little kid wishing I was the Hulk (and little did I know how much I'd end up identifying with Bruce Banner as I grew into adulthood). It's an honor to be working with such an iconic brand to spread the inception story of the Society via The Prox Transmission."
Presenting an entirely unique and original graphic novel, THE PROX TRANSMISSIONS delivers a powerful scientifically-charged allegory in the form of a new literary movement this September from Dustin Bates, Peter David, The Starset Society, and Marvel Comics.