The teleporting canine will embark on a whirlwind adventure in his new series.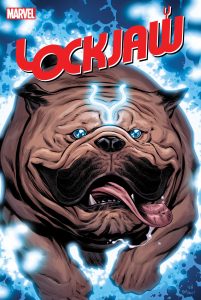 He's been a breakout star since he could bark, a faithful sidekick to his Inhuman masters, and has helped protect an empire. Now, he's got his own mission to take on — Marvel is excited to announce LOCKJAW #1, a new four-part mini written by Daniel Kibblesmith with art by Carlos Villa.
When Lockjaw finds out his long-lost siblings are in danger, he'll embark on a journey which will result in a teleporting, mind-bending adventure. "We're super excited about this book. Daniel Kibblesmith—a hilarious writer who works on The Late Show and recently published a book called Santa's Husband—has cooked up an incredibly fun, heart-filled romp around the Marvel Universe," said series editor Wil Moss. "Back in BLACK BOLT #5, writer Saladin Ahmed and artist Frazer Irving finally settled the mystery of Lockjaw's origin: He's definitely a dog, birthed by a dog, who happens to have the power of teleportation.
But now we're going even further: How did Lockjaw obtain that power? And is he really the only Inhuman dog in the universe? So in issue #1, we find out that Lockjaw's got brothers and sisters.
From there, we'll be following everybody's best friend around the universe as he tracks down his siblings—along with a surprising companion, D-Man. It's gonna be a fantastic ride, all beautifully illustrated by up-and-comer Carlos Villa. So grab on to the leash and come with."
LOCKJAW #1 (of 4)
Written by DANIEL KIBBLESMITH
Art by CARLOS VILLA
Cover by ED MCGUINNESS
Variant Cover by RON LIM
Variant Cover by GUSTAVO DUARTE