By AI Creative Media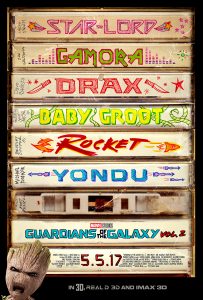 The new trailer for "Guardians of the Galaxy Vol. 2," the sequel to the 2014 breakout hit, aired just before kickoff on Sunday's Super Bowl, and it introduced the rag tag superhero team.
The cast includes the return of Chris Pratt (Star-Lord), Zoe Saldana (Gamora), Vin Diesel (Groot), Dave Bautista (Drax), Bradley Cooper (Rocket), Karen Gillan (as Nebula), Michael Rooker (as Yondu), and Sean Gunn (as Kraglin).
Set to Fleetwood Mac's "The Chain", the trailer reveals a gold-drenched Elizabeth Debicki who plays the character Ayesha and sets the tone of the trailer and threatening our hero: "just who the hell do you think you are?"
Guardians of the Galaxy Vol. 2 is scheduled for release on May 5th, 2017. Check out the Super Bowl trailer below, (adding to the two other Guardians trailers that is already out there):