Your 1st look at Rainbow Rowell and Kris Anka's new series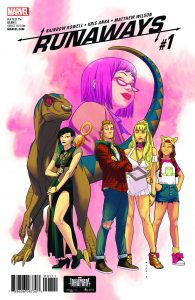 New York, NY—August 18, 2017— Nico, Karolina, Molly, Chase, Old Lace and even Gert are back – and better than ever. This fall, best-selling YA writer Rainbow Rowell (Carry On, Eleanor and Park), superstar artist Kris Anka (All-New X-Men, Star-Lord) and Eisner-winning colorist Matt Wilson (The Mighty Thor, Black Widow) team up to bring the universe's pluckiest team of super heroes back to where they belong: in the pages of a Marvel comic book.
"As a Runaways fan, it's been such a thrill for me to see these characters together again," said writer Rainbow Rowell. "I can't wait to let everyone else into the party."
"For years I batted other editors and creators back from the Runaways," said Executive Editor Nick Lowe. "I was the last Editor to edit them and they are precious to me, so I didn't want just ANYBODY to bring them back. So when my new favorite writer (Rainbow's Eleanor & Park slayed me in the best way) said they were her favorites, I knew I had half of the lightning I needed. Kris [Anka] was the other missing link for the PERFECT RUNAWAYS creative team and I'm so excited to share them with the world!"

Retailers and fans can share the attached chart and order form with helpful hints on how to easily pre-order the new series. Don't miss the beloved group of misfits as they make their way back to Marvel Comics this September.