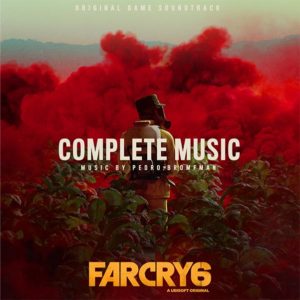 Today, Ubisoft® announced that Far Cry® 6: Complete Music (Original Game Soundtrack) – Music by Pedro Bromfman is now available on digital platforms.
The soundtrack features 49 tracks – a total duration of about 120 minutes, from Far Cry 6, which is available worldwide on Xbox Series X|S, Xbox One, PlayStation®5, PlayStation®4, Stadia, Amazon Luna and for Windows PC exclusively on both the Epic Games Store and the Ubisoft Store. The game is also available on Ubisoft+*, Ubisoft's subscription service.
"The score for Far Cry 6 overflows with distinctive, haunting melodies and character themes, accompanying and further immersing the players in their amazing journey through Yara," said composer, Pedro Bromfman. "It's a journey full of beauty, brutality, adrenaline and passion."
Developed by Ubisoft Toronto**, Far Cry 6 immerses players into the adrenaline-filled world of a modern-day guerrilla revolution set in Yara, a tropical paradise frozen in time in the heart of the Caribbean.

Playing as local Yaran Dani Rojas, players will explore and entire island nation and join the revolution to liberate its people from the oppressive rule of dictator Antón Castillo and his teenage son Diego – brought to life by Hollywood stars Giancarlo Esposito (The Mandalorian, Breaking Bad) and Anthony Gonzalez (Coco). To purchase and stream: ubisoftmusic.
Subscribe to the Official Playlist:
Track List
01. Libertad ***
02. El Presidente ****
03. You're in the West Now
04. '67
05. The Sword and the Hero
06. Fields of Red
07. Guerrilla Paths
08. The Tourist
09. Our Land, Our Rights
10. A Walk with Pedro Torrero
11. The Montero Roots
12. The Guerrilla
13. Family not Blood
14. Madrugada
15. Justicia Montero
16. Viva Clara
17. The Lucky One
18. Meet the Band
19. Balaceras
20. Outcast
21. Pay Your Debts
22. A Horse and Some Paint
23. Arrival
24. Valle de Oro
25. Isla Santuario
26. Guts and Fire
27. The Poison
28. Re-education
29. The Battle of Esperanza
30. My War
31. Fist of the Revolution
32. Antón
33. La Espada
34. Rebuild Paradise
35. Meeting on the Mound
36. Rise of the Revolution
37. Los Montero
38. Batter Up
39. Karlito
40. The True Yaran Academy
41. Tiger and Cub
42. Fight Until They Die
43. El Este
44. Reunion
45. War is Over
46. Foreign Invasion
47. The Lion and the Lamb
48. Supremo
49. We Are Lions