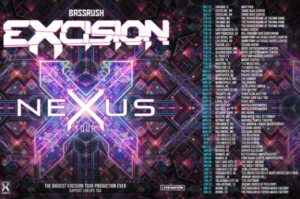 Today, DJ and producer Excision announced his upcoming Nexus tour. Produced by Live Nation and Insomniac, the tour kicks off on December 22, 2023 in Chicago at Navy Pier, with stops across North America in San Francisco, Austin, Toronto, Vancouver, Boston and more before wrapping up in Dallas. The tour also features the return of Excision's branded doubleheaders Thunderdome in Seattle, High Roller in Las Vegas, Armory in Minneapolis and Mile High in Denver.
"This is the biggest tour we've ever done, with over 50 dates, massive production, and an incredibly talented mix of artists joining us on every stop. I can't wait to be able to reveal more. I'm excited to see all the Headbangers in their hometowns!" – Jeff Abel (Excision)
The tour follows Excision's latest release "Bass To The Dome," with Sullivan King which was released on August 25 via his label, Subsidia Records, marking his 7th track release of 2023. Notably, Excision just wrapped his 5th annual Bass Canyon Festival at The Gorge Amphitheatre, sold-out 3 nights at Paradise Blue Festival in Cancun, and played two massive sets at EDC Las Vegas for packed crowds at circuitGROUNDS and bassPOD Stages.
Tickets will be available starting with an Artist presale beginning Wednesday, September 6 (Code: NEXUS). Additional presales will run throughout the week ahead of the general onsale beginning Friday, September 8 at 10 AM local time at excision.ca.

Imagine a world consumed by all-powerful bass driven rhythm and colossal seismic frequencies. Sounds of dystopian, futuristic worlds envelop the senses and control the movements of your body as the spectacular audiovisual experience of an Excision show takes hold. The stage shatters worlds with massive stacks of soul-shaking subwoofers, streams of mind-blowing lasers painting entire stadiums, flashes of multicolor lights, immersive visuals transporting you to other dimensions, and as much flame and pyrotechnics as you can fit into a performance.
In 2024, Excision will embark on his biggest, most ambitious tour yet, Nexus, bringing his signature bass music and cutting-edge stage technology all across North America. For the first time, fans in every city will be getting the full Excision concert experience.
DJ, producer and festival creator Excision (Jeff Abel) resides at the epicenter of an ever-expanding realm of the Bass Music genre. Hailing from Kelowna, British Columbia, Abel is a pioneer of the North American Dubstep scene with over 17 years of relentless touring, cultivating a huge, passionate community at shows and festivals around the world. His expansive discography traverses a wide range of bass sounds across five full-length studio albums, countless EPs and singles, 17 annual fan-favorite mixes and numerous live recordings, amassing well over 2 billion streams globally.
Under his event production arm Excision Presents, he has created world-renowned music festivals like the prehistoric juggernaut Lost Lands, breathtaking Bass Canyon, beach resort fest Paradise Blue, and major regional concerts like The Thunderdome of Seattle, The Armory in Minneapolis, Mile High in Denver, The Stadium in Los Angeles and more. These branded events combine to bring out hundreds of thousands of headbangers each year. Broader audiences can also catch Excision headlining at legendary festivals such as EDC Las Vegas, Ultra, Tomorrowland, Lollapalooza, Electric Zoo and Shambhala.
On the recording side, Excision founded Subsidia Records in 2020 as a followup to his previous imprint Rottun Recordings. Subsidia continues to release groundbreaking tunes from emerging artists with a goal of celebrating and pushing forward the wide breadth of subgenres that culminate in bass music. The label has provided release opportunities for over 100 producers, introducing them to new fans and fostering their continued growth as artists.
Excision's influence can be felt in every facet of the industry. Though he has already established a legendary brand, he is continually striving to help the community grow. Last year, he launched the Bass Music Initiative which sponsored ten up-and-coming bass artists with funds and support to help them advance in their music careers. He says, "Everything I do is focused around the mission of helping Bass Music grow, while still staying true to itself. We have such a caring and loving group of people involved within this scene, and I hope the music will help more people find their home within it."