The classic team reunites in honor of its 30th anniversary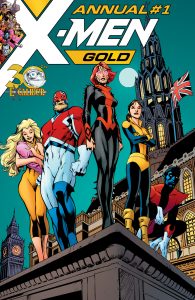 This January, get ready for an X-Men story so big, Marvel enlisted two superstar writers to bring it to life. Written by Marc Guggenheim (X-Men Gold) and Leah Williams (Secret Empire: Brave New World) with art by Alitha E. Martinez (Black Panther: World of Wakanda), the original Excalibur team will reunite for an exciting adventure that both long-time fans and new fans can enjoy.
But getting the gang back together proves to have its own challenges…and who is the new Braddock bundle of joy?
"Since the launch of ResurrXtion, fans have been wondering when the classic Excalibur team would come together again," said series editor Chris Robinson. "With this Annual, Marc, Leah, and Alitha have painstakingly put together a love letter to them and the classic series we're all still talking about!" With a cover by Excalibur co-creator and industry legend Alan Davis, don't miss all the action in X-MEN GOLD ANNUAL #1, coming to comic shops this January.