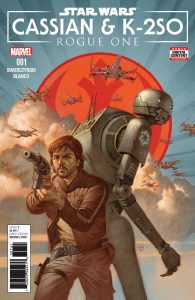 This Is The Droid You're Looking For: Announcing STAR WARS: ROGUE ONE – CASSIAN & K-2SO SPECIAL #1
New York, NY—May 19, 2017—Cassian Andor and his reprogrammed Imperial security droid K-2SO have a partnership that rivals the closeness of Luke Skywalker and R2-D2. But like all great stories, that wasn't always the case. So how did the great partnership of human and droid come to be? This August, find out the real history between the two characters when Marvel releases STAR WARS: ROGUE ONE – CASSIAN & K-2SO SPECIAL #1, written by acclaimed author Duane Swierczynski (Cable, Punisher: Frank Castle) with art by Fernando Blanco (Marvel Zombies, Thunderbolts).
Despite fighting to protect the galaxy, Cassian Andor and K-2SO haven't always been on the same side of the Galactic Civil War – and readers will find out why in this new story, which includes the two characters meeting each other for the very first time.
"When I first heard about ROGUE ONE, I was thrilled," said series writer Duane Swierczynski. "A heist movie set in the Star Wars universe? Are you kidding? Never in my wildest dreams did I think I'd be invited to tell a small piece of that story. And it was even cooler that I was asked to write about the first meeting of Cassian and K-2SO — easily my two favorite characters in the movie. What can I say? I love bad-asses and robots."