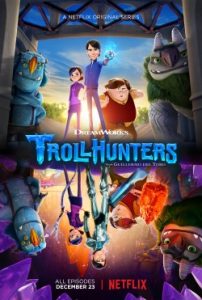 By Creative Media Times
'Trollhunters' was the big winner on Friday night's Daytime Emmy Creative Arts. The DreamWorks Animation/Netflix series created by Guillermo del Toro won 6 trophies, while 'Days of Our Lives' led the drama-series categories with five.
The computer-animated fantasy series won for Outstanding Casting for an Animated Series or Special, Outstanding Writing in an Animated Program, as well as Kelsey Grammer for Outstanding Performer in an Animated Program. Overall, 'Trollhunters' helped Netflix win 11 statuettes, second best of the night after Amazon which took home 13, which was bolstered by 5 big wins from its soap opera 'The Bay the Series'.
Some of the other notable winners included "Lost in Oz Extended Adventure," "SuperSoul Shorts – Maggie the Cow," "The Young and the Restless," and "The Bold and the Beautiful".
Daytime Creative Arts Emmy Awards honors "excellence in all fields of daytime broadcast production". This year's ceremony was held at the Pasadena Civic Auditorium in Pasadena, California. More winners of the Daytime Emmy will be announced this coming Sunday night.
Click here to see the full list of winners.