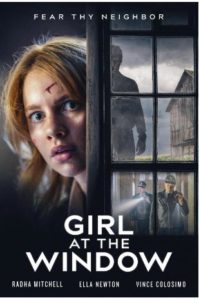 Girl At The Window is set to be released on digital and VOD on November 4, 2022.
XYZ Films has also released the poster premiere and trailer debut (see trailer below).
"Girl At The Window" is directed by Mark Hartley (Not Quite Hollywood: The Wild, Untold Story of Ozploitation!, Machete Maidens Unleashed!) who is best known for his genre-focused exploitation documentaries.
This serial-killer-next-door thriller stars Radha Mitchell of the Silent Hill Franchise. Terence Hammond & Nicolette Minster wrote the script.
Also in the cast are Ella Newton (TV's Harrow, Kit & Em, TV's Neighbours), James Mackay (Pirates of the Caribbean: Dead Men Tell No Tales, Battle of the Sexes, Hacksaw Ridge), Karis Oka, and Vince Colosimo (Lantana, Chopper).
In "Girl At The Window", Amy (Ella Newton) and her mother (SILENT HILL'S Radha Mitchell) move to a new home. Amy sees weird activity – her neighbor comes and goes at strange hours and she hears screams. Is her new neighbor and her mother's new love interest the serial killer that's killing her classmates?