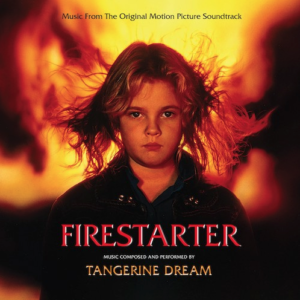 Varèse Sarabande revisits the glory days of 1980s sci-fi "synthwave" with a new edition of Tangerine Dream's classic electronic score for Firestarter (1984). This is in conjunction with the new Firestarter (2022) film, released May 13. This 11-track program—released on LP by MCA Records in1984 and on CD by Varèse Sarabande in 1990—has been newly remastered for this reissue.
The new LP and CD packages also contain previously unused film stills and new liner notes by Randall D. Larson explaining how the band did not score to picture but created "wild" cues to be used by the film's music editors. The re-issues is available on VareseSarabande.com and Intl.VareseSarabande.com. Both the CD and LP are available now for pre-order and will release July 22.
Firestarter, based on a 1980 book by Stephen King and directed by Mark L. Lester, starred eight-year-old Drew Barrymore as Charly, a girl with pyrokinetic powers owing to her parents' participation in a secret study of hallucinogenic drugs. When the agency behind the experiments comes for Charly to weaponize her powers, led by an assassin played by George C. Scott, she goes on the run with her father.
Firestarter came amidst the 1980s film-scoring heyday of German synth band Tangerine Dream, in their well-known lineup of Edgar Froese, Christopher Franke and Johannes Schmoelling. The band's pulsating textures and ambient soundscape reinvented film scoring in films as varied as Thief, Risky Business, The Keep, Legend (U.S. version), Three O'Clock High, Near Dark and Miracle Mile, and have cast a long shadow on future styles.