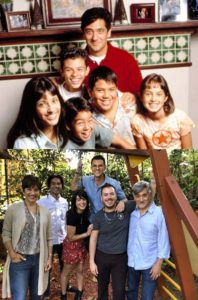 Pre-Production Starts Now with New Cadence Productions
New Cadence Productions (NCP) announced today that they will re-boot the hit series "The Brothers Garcia" with "The Garcias," featuring the entire original cast who are all grown up with diverse families of their own.
The original series "The Brothers Garcia" ran on Nickelodeon for 50 episodes from 2000-2004. It also aired in 40+ countries around the world. The new series will be shot in the Riviera Maya, Mexico, specifically in a town called Puerto Aventuras, as well as in eco-theme parks Xcaret, Xplor and Xel-Ha. These four locations will add a unique production value to the show.
"The Garcias" is a slice of life of an American family that just happens to be Latino. By shooting the show in San Antonio, Texas and Mexico, the series juxtaposes an American Latino family in Mexico.
"We want audiences to see that we are totally American and part of the 'new mainstream,'" exclaimed NCP Partner and show creator Jeff Valdez. "There are no themes of narcos, border walls, gang bangers or maids anywhere in this series – a fact that we are very proud of and hope that Hollywood will follow suit. We are extremely proud of the fact that this show will easily achieve 90+% positive Latino inclusion both in front of and behind the camera."
"We are excited to be partnering with WarnerMedia, who believes in the project and ordered 10 episodes," states Sol Trujillo, NCP Partner and global media-communications and technology icon. "The themes of our new series are aspirational and universal. "The Garcias" will be in English and, of course, every episode will end with the trademark, 'Todo para la familia,' which means 'Everything for the family.'"x