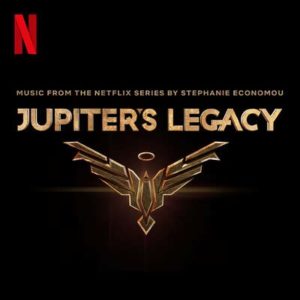 Milan Records today announces the May 7 release of JUPITER'S LEGACY (MUSIC FROM THE NETFLIX ORIGINAL SERIES) by composer STEPHANIE ECONOMOU. Available for preorder now, the album features score music written by Economou for the forthcoming Netflix superhero series based on the graphic novels by Mark Millar and Frank Quitely. Also featured throughout the score are experimental and choral-style vocals with lyrics sourced from Mark Millar's original comic book text, which Economou translated into Latin. Making its debut today alongside album preorder is the soundtrack's lead single "Union of Justice" – listen here. Starring Josh Duhamel, Ben Daniels and Leslie Bibb, Jupiter's Legacy debuts on Netflix Friday, May 7.
Of the soundtrack, composer STEPHANIE ECONOMOU says, "This first season of Jupiter's Legacy offers staggering diversity in style, scale, emotion and time period, so I set out to create a musical landscape through which the score could expand and contract; kind of like a kaleidoscope. This afforded me the opportunity to explore varied stylistic sound worlds, from hybrid orchestral to industrial rock to contemporary electronic. At a critical moment in the season, I composed a large-scale choral piece using two of the main musical themes: the heroic 'Union' theme and what I call the 'quest germ,' which is a cyclical sequence of notes that emerges as our adventure unfolds (Track 28: Jupiter's Legacy). For the chorale, I decided to source the lyrics from the original comic series by Mark Millar and translated the text into Latin. In order to make this pinnacle moment feel purposeful and impactful, I chose to unwind the choral idea by recording small modules of detuned, experimental vocals with the masterfully innovative singer, Ari Mason. My objective was to have these fragmented vocal elements serve as a kind of musical breadcrumb trail, slowly and abstractly weaving itself into the fibers of the score, culminating in a grand declaration of our main Union theme with full choir at the climax."
After nearly a century of keeping mankind safe, the world's first generation of superheroes must look to their children to continue the legacy. But tensions rise as the young superheroes, hungry to prove their worth, struggle to live up to their parents' legendary public reputations— and exacting personal standards. Based on the graphic novels by Mark Millar and Frank Quitely, Jupiter's Legacy is an epic superhero drama that spans decades and navigates the complex dynamics of family, power, and loyalty. From executive producers Mark Millar, Frank Quitely, Lorenzo Di Bonaventura, Dan McDermott, Steven S. DeKnight, James Middleton, Sang Kyu Kim, Jupiter's Legacy stars Josh Duhamel, Ben Daniels, Leslie Bibb, Elena Kampouris, Andrew Horton, Mike Wade, and Matt Lanter.