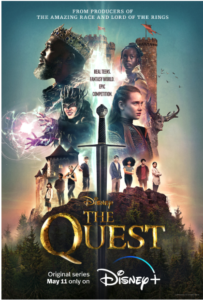 Today, Disney+ asked audiences at Wondercon, "Do you have what it takes to save the Kingdom?" as they were welcomed to Everealm, the world at the center of the unique new Original Series, "The Quest," streaming May 11 only on Disney+.
For thousands of years, Everealm has been a land of unrivaled beauty and powerful magic. Now, the realm is threatened by a powerful evil Sorceress. As a last hope, the noble Fates summon eight strangers known as Paladins from a world beyond to work together to fulfill an ancient prophecy and vanquish the Sorceress. The Paladins must unlock the hero within through a series of challenges that push their limits to restore balance to Everealm. If they fail, all will be lost. Heroes will rise. Kingdoms will fall.
Brought to the screen by the Academy Award®- and Emmy®-winning teams behind "The Lord of the Rings," "The Amazing Race" and "Queer Eye," "The Quest" is a groundbreaking, immersive, hybrid competition series that drops eight real-life teenagers (Paladins) into the fantastic, fictional world of Everealm, where they must save a kingdom by fulfilling an ancient prophecy. Throughout the eight-episode series, these heroes are immersed in a fantasy world come to life, complete with a castle, royals, ethereal fates, all forms of mystical creatures and a sorceress intent on destruction and power.