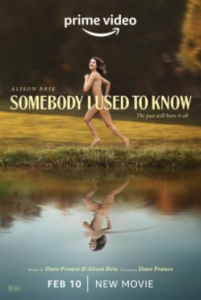 Prime Video has released the official trailer for the upcoming new film "Somebody I Used To Know" from Dave Franco, who wrote and directed the film. The romantic comedy film features Franco's his wife Alison Brie, who also co-wrote the script.
Also in the film are Kiersey Clemons, Jay Ellis, Julie Hagerty, Haley Joel Osment and Amy Sedaris.
Franco has also directed Brie in the 2020 horror film The Rental.
In "Somebody I Used To Know", Ally (Brie) who reunites with an ex-boyfriend on a trip, makes her start to question all of her prior life choices. The turn of events gets confusing when she meets Cassidy (Clemons), a younger woman who reminds her of the person she used to be.
"Somebody I Used To Know" is set for release February 10, 2023 on Prime Video.