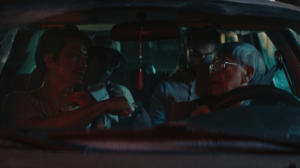 Based on a true story, the film is directed by Sing J. Lee and starring Hiệp Trần Nghĩa, Dustin Nguyen, Dali Benssalah, Phi Vũ, and Gabrielle Chan
"The Accidental Getaway Drive" is Written by Sing J. Lee and Christopher Chen, with Kimberly Steward, Basil Iwanyk, Andy Sorgie, Brendon Boyea, and Joseph Hiếu serving as producers.
The film is set to premiere the 2023 Sundance Film Festival as part of the U.S. Narrative Competition at the 2023 Sundance Film Festival. Visit the Sundance Festival website for screening times.
Sing J. Lee is an award-winning writer and director of Hong Kong descent, born in Manchester, UK. With a background in music, illustration, and animation, Lee's early short films have garnered nominations including BBC Best of the North, which led to a decade-long foray in the music video and commercial space; working with artists including Pharrell, Donald Glover, Alicia Keys, Migos, and Halsey, among others. Prevalent through all is Lee's distinct cultivation of visual language and exploration of themes of duality and human spirit.
Here's the film's synopsis:
Long, a Vietnamese driver in Southern California answers a late-night call for a ride. Already in his pajamas, he reluctantly accepts, picking up a man, Tây, and his two companions. But the men, recently escaped convicts from an Orange County jail, take Long hostage at gunpoint, thrusting him into their getaway plan. When complications arise, the fugitives and their hostage hole up at a motel, and a tense waiting game unfolds.