By Armando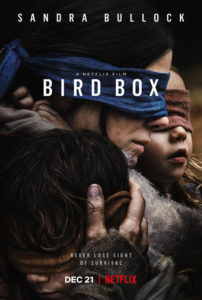 Netflix enlists its own Hollywood A-lister for its post-apocalyptic horror film "Bird Box." Set for release later this year, the film sees Sandra Bullock trying keep her kids out of danger while also blindfolded.
"If you hear something in the woods, you tell me. If you hear something in the water, you tell me. But under no circumstances are you allowed to take off your blindfold," Bullock's Malorie tells her children.
Already, many are comparing its premise to the blockbuster hit "A Quiet Place" from earlier this year: the world's population is being annihilated and a mysterious force is responsible for it. This time, the protagonists have to avoid seeing it to save their lives as they take a harrowing journey to safety.
However, "Bird Box" is in fact based on a 2014 eponymous novel from Josh Malerman (lead singer of The High Strung), the film rights of which was bought by Universal Studios in 2013, back when Andy Muschietti was attached to helm. Muschietti has since directed the colossal boxoffice horror hit "It."
This should not diminish the potential of "Bird Box". The film, seemingly taking place across different time periods, looks genuinely thrilling and Bullock is always solid. The comparisons to the John Krasinski-directed film may, in fact, only increase its visibility. No pun.
Also in the film are Sarah Paulson, Rosa Salazar, Danielle Macdonald and John Malkovich. Directed by Susanne Bier. Its also set to make its world-premiere on November 12 at AFI Fest where many films take a dive into awards contention.
"Bird Box" will hit Netflix and select theaters Dec. 21.