By Creative Media Times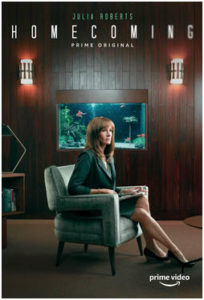 "Homecoming is a safe space for you to process your military experience and think about what comes next," Roberts' Heidi Bergman says in the trailer.
Amazon Prime Video just dropped the second trailer for psychological thriller tv series "Homecoming" today and it is as intriguingly vague as it is strange, showing Roberts in the midst of a mystery.
This will be the iconic movie star's first major role on a tv series. Created and directed by Sam Esmail, best known as the creator of the drama thriller "Mr. Robot" tv series, "Homecoming" also stars Bobby Cannavale, Shea Whigham and Stephan James.
Per Amazon's detailed synopsis, Heidi Bergman is "a caseworker at Homecoming, a Geist Group facility helping soldiers transition to civilian life. Years later she has started a new life, living with her mother and working as a waitress, when a Department of Defense auditor questions why she left the Homecoming facility. Heidi quickly realizes that there's a whole other story behind the story she's been telling herself."
Homecoming is set to premiere on Amazon Prime Video, November 2, Friday.