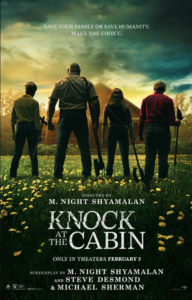 After the recent box-office success of thrillers "Old" and "Split", M. Night Shymalan returns in "Knock at the Cabin", an upcoming apocalyptic psychological horror film set to be released by Universal Pictures.
A new trailer has recently been released, giving audiences another look at the twisty film about a family that has to make difficult choices in order to avert and survive an apocalypse.
The trailer also features actor Dave Bautista who seems to be the leader of a creepy cult-like group. Along with Bautista, the film also stars Jonathan Groff, Ben Aldridge, and Rupert Grint.
The film is based on the 2018 novel "The Cabin at the End of the World" by Paul G. Tremblay.
"Knock at the Cabin" is set to be released in the United States on February 3, 2023.
Here is the film's official synopsis:
"While vacationing at a remote cabin, a young girl and her parents are taken hostage by four armed strangers who demand that the family make an unthinkable choice to avert the apocalypse. With limited access to the outside world, the family must decide what they believe before all is lost."