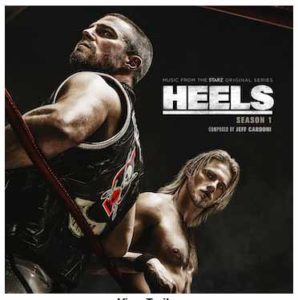 Lions Gate Records has digitally released music from season one of the STARZ Original Television Series "Heels", composed by Jeff Cardoni (Silicon Valley, The Kominsky Method). The album is available today, in conjunction with the recently aired climactic season finale.
The score predominantly features electric guitar, augmented with strings and piano to reflect the gritty, down-to-earth world the wrestling drama is set in. The opening track "Love in War" (Main Title Theme) features Ben Bridwell, frontman of the Grammy-nominated American rock group Band of Horses. The complete season of "Heels" is available for streaming on STARZPLAY.
Jeff Cardoni says, "'Heels' was a dream project work on—I feel it's the most personal representation of what I do to date. I owe a debt of gratitude to music supervisor Jonathan Leahy. Through him I was given a chance to read the script and submit a demo. I stayed up all that night and wrote a piece of music called "Crystal Belongs in the Ring," and thought nothing of it. Low and behold, [Executive Producer and] Showrunner Mike O'Malley loved the cue and hired me based on that and my recently released solo album 'Nuovo Futuro,' which coincidentally had the instrumental sound I envisioned for the show. Flash forward a year later, and the themes in that first piece of music became the main building blocks of the score and the cue itself appears in the big climax of the season finale."

"Heels" is a story about the men and women who chase their dreams in the world of small town pro wrestling. Set in a close-knit Georgia community, it follows a family-owned wrestling promotion as two brothers and rivals war over their late father's legacy. In the ring, somebody must play the good guy and somebody must play their nemesis, the heel. But in the real world, those characters can be hard to live up to — or hard to leave behind.
In addition to O'Malley, the show is written and created by executive Producer Michael Waldron. Peter Segal, who directs several episodes, also serves as Executive Producer along with Christopher Donnelly, and Patrick Walmsley. "Heels" stars Stephen Amell as Jack Spade, with Alexander Ludwig playing his younger brother, Ace, and aired its Season 1 finale on Sunday, October 10. "Heels" is now available on the STARZ App.