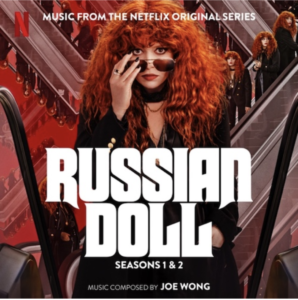 Gardener Recordings has announced the upcoming release of Russian Doll: Seasons 1 & 2 (Music From The Netflix Original Series) by Joe Wong. The recordings is set to be available April 20th on all major digital platforms, coinciding with the Season Two launch on Netflix.
"In many ways, we think of 'Russian Doll' as a musical, with the score serving to bridge and guide us through the rollercoaster of Nadia's puzzle box adventure," notes Natasha Lyonne, the show's co-creator.
Composed by Joe Wong – who has worked on some of Netflix's biggest hits including Master Of None and the To All the Boys…franchise, and their critically lauded The Midnight Gospel, the album consists of his dream-like original score with highlights from the breakout first season and the highly anticipated second season.
The first season of Russian Doll follows a woman named Nadia who is caught in a time loop as the guest of honor at a seemingly inescapable party one night in New York City. She dies repeatedly, always restarting at the same moment at the party, as she tries to figure out what is happening to her. Season Two is set four years after Nadia and Alan saved each other and escaped the time loop in Season One — but now they're stuck in a new kind of loop. This season, Nadia and Alan discover an unexpected time portal that sends them both on an era-spanning adventure through the past. The two must search for a way out of the loop together.