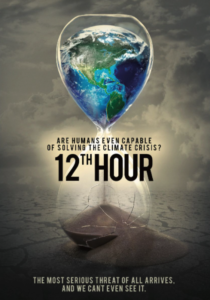 California-based distributor Video Project has announced worldwide rights and a Spring release for the award-winning documentary 12TH HOUR. Emmy nominee David Morse ("The Chair," "Blindspot") narrates the brutally honest climate change documentary, directed by Susan Kucera (Hot Money).
Narrated by David Morse, the doc bridges the gap between how our brains evolved to solve problems and what the human race needs to survive climate change.
This announcement is timed perfectly for Earth Day (which is this Friday, April 22) — The socially conscious film distributor has launched a 500-school outreach program wherein any school can receive 38-page study guide and screen the film for free. John Zavalney, Los Angeles Unified School District's Science and Environmental Educator (retired) will be available to facilitate screening events in Los Angeles area classrooms.
12th Hour will also be available on April 26 on Kanopy, the on-demand educational streaming video platform for public libraries and universities.
Climate affects nearly every aspect of our lives; from our food sources to transport infrastructure, to shelter and clothing. It is representative of our livelihoods, our health, and our future. In recent years, however, science has proven that warmer temperatures over time are changing weather patterns and disrupting the balance of nature which poses great risks to humanity and all other forms of life worldwide. With insight from noted evolutionary biologists, climate scientists, cognitive researchers, and psychologists, 12th Hour explores how human traits evolved to solve short-term challenges for our immediate survival and how we might bridge the gap between short and long-term planning.