Tom Payne ("Jesus" in The Walking Dead) and Chris Villain (Social Media Influencer) Moderate WonderCon Panel Showcasing Behind The Camera Talent of Television's Favorite Stories.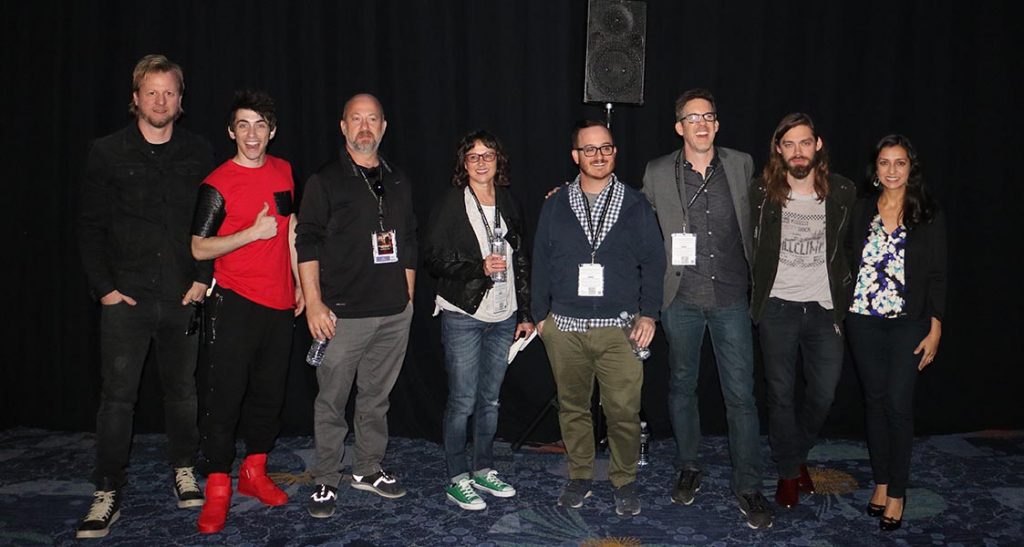 Anaheim, CA — For the first panel of WonderCon 2017, crowds from all walks of fandom and geekhood lined up to hear insights from the talented men and women who work behind the camera to breathe life into some of the most beloved fictional worlds on film and television. The panel was presented by Eastern Talent Agency, which represents all of the panelists, and featured an intro by owner and principal agent, Maureen Toth.
The panel consisted of Gary Kordan (production designer for Key & Peele and Workaholics), Philip Harrison (editor on Mr. Robot and Crazy Ex-Girlfriend) Tony Solomons (editor on Freakish and The Vampire Diaries), Marc Pattavina (editor on Lucifer) Elaine Montalvo (costume designer for The Walking Dead), and Maggie Fung (make-up artist on Indiana Jones and the Kingdom of the Crystal Skull, and Matrix Reloaded). They were joined on stage by guest celebrity moderators, Tom Payne, an actor best known as Paul "Jesus" Rovia on the Walking Dead, and Chris Villain, renowned cosplayer, musician, and social-media influencer.
While the panelists certainly represented a diverse range roles on a film set, the moderators quickly found common ground and shared experience. They panelists first discussed the unique challenges and excitement of working on dark and intense projects. "On Workaholics I had to carry around Alice's head every day in my car," remarked Gary Kordan, adding "if you looked at our search history, it is all all carnage, blood, and decapitation." The panelists also talked a great deal about not only their own work, but also the importance of finding a way to compliment the needs and designs of the show as a whole. Elaine Montalvo commented, "Since the characters are written and portrayed with such complexity, their journey just invites me to add to their story."
From here, the questions centered on the panelists' respective trades. For the editors, the focus was on how to craft a balanced show, while also elevating its unique thrills. Philip Harrison was very eager to remark on the creative possibilities Mr. Robot offered him, stating, "In Season 2, I cut a sitcom sequence with a three minute Adderall montage. Within these dark shows we have a lot of opportunities to have a lot of fun." Tony Solomons, meanwhile, laid out how working within a show like The Vampire Diaries necessitated a sense of stylistic consistency, explaining "this is a show where you'll never see a dissolve cut, because we think that that's just not vampire. We have a specific palette we like to follow, to capture a very precise sense of the world." Meanwhile, Marc Pattavina was careful to explain how an editor is sometimes forced to bring in practical considerations; "We have to talk people out of things. We always do quick cuts around the characters' demon forms because, while the effects department would prefer longer in-depth shots, we simply don't have the resources to allow that."
For the fields of costume, makeup, and production design, the questions focused on how they handled the inevitable place of CG, in field that demands immense technical expertise. "On The Walking Dead, one of our primary goals is to maintain a sense of individuality of the walkers, so not everyone is lost in the group," explained Elaine Montalvo, "but this becomes challenging when you also factor in safety concerns, working padding into the costumes to make up for the fact that not every walker who takes a fall is going to be a trained stuntman." Gary Kordan, meanwhile, described a more graphics integrated approach, recounting how "on Time Travelling Bong, to replicate the post-apocalyptic city, we had to build a platform of trash, then get the visual effects department to build up a dystopian city in post." For Maggie Fung, working on feature films allows a precious amount of extra time to get the look of the characters just right, "sometimes, on projects like Matrix: Reloaded, I'd have three weeks to meet with the actors and get the makeup design just right, which is a lot less stressful than when I just get a few days."
As the panel wrapped up, the speakers started to talk less about their particular projects, and more about the incredible levels of both stress, and creative gratification, that their roles bring. "A lot of times we are getting by the skin of our teeth, and just making it to deadlines," said Gary. "It's tough," Tony admitted, "but when you get a scene looking just the way you need it to, and even manage to hide in a neat Easter egg or two, it feels totally worth it."
This panel was presented by Eastern Talent Agency and its agents, Maureen Toth, Scott Benson and Jen Caprio. For more info on the panelists, visit Eastern Talent Agency's website (http://www.easterntalent.net/) and follow them on facebook (www.facebook.com/EasternTalent/) and instagram (www.instagram.com/easterntalent/).