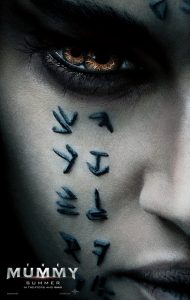 By AI Creative Media
Already shaping up as one of our most anticipated movies of the summer, Universal releases another poster and teaser trailer for 'The Mummy'. And it is creepy.
The artwork features a close-up of Princess Ahmanet's (Sofia Boutella) double iris and what looks like special characters tattooed on her face. It is a simple yet intriguing one-sheet that conveys the film's elements of terror and ancient civilization which should delight horror fans. This puts Boutellas' menacing stare, also seen on the first teaser trailer a few months ago, front and center.
Headlined by Tom Cruise, the movie is a reboot of The Mummy franchise and is intended to be the first installment in Universal Monsters shared universe. The series intends to include Invisible Man (supposedly starring Johnny Depp), The Wolf Man, Van Helsing, Creature from the Black Lagoon, and the Bride of Frankenstein.
A new extended trailer is expected to debut during the season finale of 'The Walking Dead' this Sunday.
Directed by Alex Kurtzman from a script by John Spaihts, the action-adventure horror film also stars Oscar winner Russell Crowe (Gladiator), Annabelle Wallis (King Arthur), Jake Johnson (Jurassic World), Courtney B. Vance (The People V. O.J. Simpson).
The film is set to arrive on June 9.