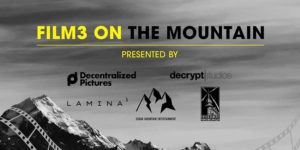 Decentralized Pictures and Web3 production company Decrypt Studios will present FILM3 On the Mountain in Park City on Saturday January 21. The event will feature a panel discussion on the benefits and drawbacks of blockchain technology for filmmakers, as well as a chance to network with leaders in film and television.
A 501c3 non-profit founded by Roman Coppola, Leo Matchett, Michael Musante, and American Zoetrope, Decentralized Pictures (DCP) is dedicated to elevating the voices of independent filmmakers through a fair blockchain protocol. DCP has launched partnerships with filmmaker/producer Kevin Smith and not-for-profit The Gotham to create financing awards for undiscovered talent.
At the conclusion of FILM3 on the Mountain, Steven Soderbergh will be on hand to announce the winner of the first Andrews/Bernard Award, which his production company Extension 765 launched on the DCP platform in 2022 to discover and support emerging talent in the film industry. The award will support three filmmakers with finishing funds for fiction features or shorts worth $100,000 each.
The winning projects are determined via transparent voting powered by blockchain technology on DCP's film funding platform. The next two recipients will be voted on and announced later this year. To submit applications to be considered for these awards or to participate as a voter, please visit DCP's website.