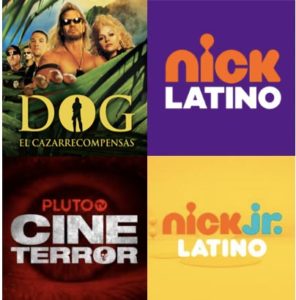 Pluto TV, the leading free streaming television service in the U.S., today debuted eleven all-new channels featuring Spanish-speaking programming on Pluto TV Latino – a dedicated category living on the Pluto TV platform that delivers premium, ad-supported programming for US Hispanic audiences. Introduced in July, the Pluto TV Latino vertical marks the latest evolution in Pluto TV's ongoing mission to entertain the planet and appeal to global audiences.
This new suite of channels brings an additional 2,000 hours, totaling 4,000 hours of Spanish & Portuguese-speaking programming and a total of 22 channels dedicated to 24/7 Latino programming on Pluto TV. The new content brings an all-new array of fan-favorites with movie-themed channels and curated genre channels featuring 24-hour programming in reality, travel, food, wildlife, and just in time for Halloween – a channel dedicated to terrifying films.
With something for everyone, these all-new genre specific channels targeted to Hispanic audiences add an even greater array of classic and iconic programming associated with fan-favorite brands like Nick (Nick Latino), Nick Jr. (Nick Jr. Latino), and Spike (Spike Aventura) to channels dedicated to franchises like "Pluto TV 007 en Español", a 24-hour dedicated channel streaming 18 original James Bond adventures. Pluto TV will also air award-winning "The Walking Dead en Español" on "Pluto TV Cine Estelar" every weeknight at 7pm ET, and then replay the show during the weekends on Pluto TV Cine Terror at 4pm and 7pm ET.
"Over the past year, Pluto TV has been heavily focused on increasing our global reach, weaving cultural resonance and diversity into our programming to appeal to audiences at home and abroad," states Amy Kuessner, SVP Content Strategy & Global Partnerships, Pluto TV. "With Pluto TV Latino, we've witnessed the rapid adoption of OTT throughout the US Hispanic market and saw an opportunity to do what few others can do, super-serve them with premium content they know and love, in the language they speak."