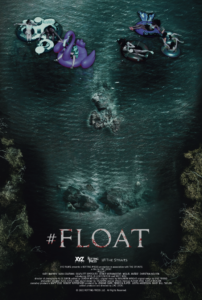 A survivor horror film about a lazy river trip gone wrong, #FLOAT is the directorial debut of writer-director Zac Locke.
The horror film from XYZ Films is set for release in VOD and digital platforms on December 9, 2022.
#FLOAT skillfully plays on classic tropes of '80s slasher films – beautiful young, selfish people blithely ignore warnings about the dangers awaiting them and then get gruesomely killed off – while employing a modern sensibility.
Here's the film's official synopsis:
Young, beautiful and full of life, vlogger Kali and her friends are heading to the river for their annual float, but it's the first time since their friend overdosed and drowned last year. Their partying turns deadly as a sinister paranormal force plunges them into a life and death struggle forcing them to face their own fears as they turn on each other – and proceed to die one by one.