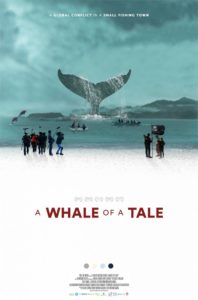 Megumi Sasaki's award-winning documentary A WHALE OF A TALE will be released on iTunes in the US, Canada and UK on Tuesday, October 30.
In 2010, Taiji, a sleepy fishing town in Japan, suddenly found itself in the worldwide media spotlight. THE COVE, a documentary denouncing the town's longstanding whale and dolphin hunting traditions, won an Academy Award and almost overnight, Taiji became the go-to destination and battleground for activists from around the world.
Can a proud 400-year-old whaling tradition survive a tsunami of modern animal-rights activism and colliding forces of globalism vs. localism?
A WHALE OF A TALE reveals the complex story behind the ongoing debate. Told through a wide range of characters including local fishermen, international activists and an American journalist (and long time Japanese resident), this powerful documentary unearths a deep divide in eastern and western thought about nature and wildlife and cultural sensitivity in the face of global activism.

In 2008, Filmmaker Megumi Sasaki directed and produced her first feature-length documentary HERB & DOROTHY, about legendary New York art collectors Herb and Dorothy Vogel. The film went on to win top honors at many international film festivals and was released theatrically nationwide and as a part of PBS's Independent Lensseries. In 2013, Megumi completed the highly anticipated follow-up HERB & DOROTHY 50X50, focusing on the next (and final) chapter in the lives of the beloved couple. The film had a nationwide theatrical release and continues to screen in theaters, museums and art fairs around the globe.
A WHALE OF A TALE isher third feature length and had its world premiere at the Busan International Film Festival in South Korea and has won awards in many other festivals worldwide. In August 2017, Sasaki published her first book with the same title of the film in Japanese, OKUJIRASAMA depicting behind the scenes of the film's production and the in-depth historical and religious background information of the whaling controversy that won the Science Journalist Award in 2018.