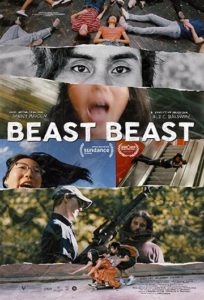 The coming-of-age drama film, written and directed by Danny Madden, tells the story of three interwoven stories of youth navigating identity, first love, petty crime, and gun violence in a Southern, American town.
Brimming with energy and style, Beast Beast captures what it means to come of age in an era marked by technology and social media, where violent clashes awaken dormant passions and teenagers are faced with growing up all too quickly.
Directed by Danny Madden, the film stars Shirley Chen, Will Madden, and Jose Angeles. The films was executive produced by Alec Baldwin and Casey Bader. It also premiered at the 2020 Sundance Film Festival.
"Beast Beast" is set to be released in select theaters on April 16, followed shortly by a digital released and on demand on May 4, 2021.