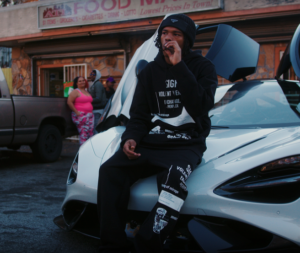 "Untrapped: The Story Of Lil Baby," has set its world premiere at 2022 Tribeca Festival.
The film, which follows the career of Atlanta rapper Lil Baby and his rise in rap and pop culture, is directed by Karam Gill and is set to be shown at Beacon Theatre at Broadway, NY.
Lil Baby's story explores the new American Dream and is an emotional rollercoaster that speaks to the larger systemic issues plaguing our country.
Untrapped: The Story of Lil Baby chronicles the life of the Grammy®-winning rapper, known to friends and family as Dominique Armani Jones, and his meteoric rise to the top of the hip hop world.
While still a teenager he became one of the most notorious figures in the streets of West Atlanta before he was arrested and sent to prison. After his release in 2016, he faced a hard choice: Return to the fast money of the streets or take a chance that his charisma and untested talent could bring him success as a rapper.
In 2020, his second album, My Turn, was the year's top seller across all music genres. Today Lil Baby is a devoted father to his two young boys and a powerful voice in the fight for racial justice and police reform. Untrapped: The Story of Lil Baby is at once an intimate portrait of a singular artist and activist and an exploration of the systemic oppression that keeps far too many people of color from participating in the American Dream.