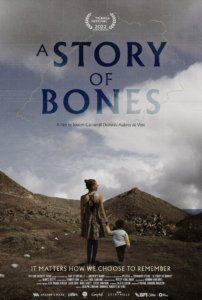 Two women fight for a memorial for the burial ground of enslaved Africans on Saint Helena – and the right to remember.
Thee documentary, which is set to have its world premiere at Tribeca Festival 2022, is directed by Joseph Curran and Dominic Aubrey De Vere.
Joseph Curran and Dominic de Vere are a directing duo compelled by vital stories in urgent need of a spotlight. It is this mission statement that led them to Saint Helena, one of the world's most remote islands. A Story of Bones is their first feature-length documentary.
Here's the official synopsis:
As the Chief Environmental Officer for Saint Helena's troubled £285m ($360m) airport project, Annina Van Neel learned of the island's most terrible atrocity – an unmarked mass burial ground of an estimated 9,000 formerly enslaved Africans in Rupert's Valley. It is one of the most significant traces of the transatlantic slave trade still on earth.
Haunted by this historical injustice, Annina now fights alongside renowned African American preservationist Peggy King Jorde and a group of disenfranchised islanders – many of them descendants of the formerly enslaved – for the proper memorialisation of these forgotten victims. The resistance they face exposes disturbing truths about the UK's colonial past and present.