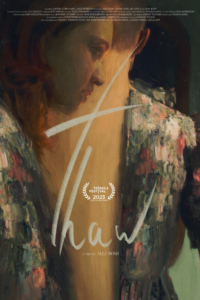 Writer, director and producer Alex Bush's suspenseful live action short film is set to have its world premiere at Tribeca Festival 2023 in the Short Film Competition, featuring Jack Petersen and Caitlin Cobb-Vialet.
"Thaw is an American film about gender roles, intimacy, and self-expression. Suspenseful, spiritual, and romantic, director Alex Bush. "The film uses social archetypes and genre-tropes to position the experience of gender exploration as a fundamental, organic human experience, in all its gorgeous and vulnerable glory. It is just as significantly a love story, one that validates our intimate relationships as a place where we are both revealed and permanently transformed."
Here is the film's official synopsis:
On a snowy winter afternoon, two young people arrive at a remote farmhouse. The two unpack and bring the dormant house back to life, powering on the electricity and settling in for what seems to be a long winter. Smith (Caitlin Cobb-Vialet), a "girl" with fiery red hair, has come for the winter to work and prepare the land, a position previously held by her late-father. The other, Huck (Jack Peterson), was forced to come along against Smith's wishes. The "sweet kid" may not be much of a farmhand, says Smith's mother, but he will at least ensure that Smith is safe during the brutal winter farming season. What follows is a suspenseful and intimate transformation, as the two young people discover the truth of who they are to both themselves and each other.