By AI Creative Media
Terrence Malick's all-star ensemble drama Song to Song, set against the backdrop of the Austin music scene, has revealed its first trailer ahead of its SXSW debut.
According to it's official synopsis, Song to Song is a "modern love story set against the Austin, Texas music scene, two entangled couples – struggling songwriters Faye (Rooney Mara) and BV (Ryan Gosling), and music mogul Cook (Michael Fassbender) and the waitress whom he ensnares (Natalie Portman) – chase success through a rock 'n' roll landscape of seduction and betrayal."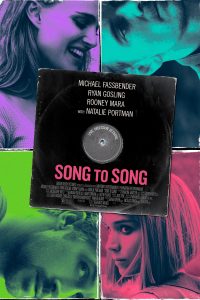 Though that might sound slightly familiar to a recent Gosling critical and commercial hit, production of Song to Song was actually announced in November 2011, was originally titled "Lawless", and Malick began shooting in 2012.
Song to Song will have its world premiere at South by Southwest (SXSW) on March 10, before opening in NYC and Los Angeles on March 17, 2017. Broad Green Pictures is releasing the movie. Broad Green also released the poster for the film on Friday (right).