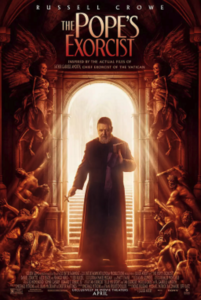 The film is a portrayal of a real-life figure Father Gabriele Amorth, a priest who acted as chief exorcist of the Vatican and who performed more than 100,000 exorcisms in his lifetime. He passed away in 2016 at the age of 91.
Along with Crowe, the horror thriller stars Alex Essoe, Franco Nero, Laurel Marsden, Daniel Zovatto, Cornell John, Bianca Bardoe
The film is directed by Julius Avery, from the screenplay by Michael Petroni and Evan Spiliotopoulos.
Sony Pictures Releasing is set to release "The Pope's Exorcist" on April 14, 2023.
Amorth wrote two memoirs, An Exorcist Tells His Story and An Exorcist: More Stories, and detailed his experiences battling Satan and demons that had clutched people in their evil.