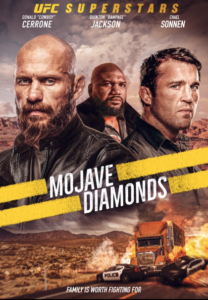 Lionsgate has released the trailer for action thriller "Mojave Diamonds".
The film follows a former MMA fighter and his brothers who must rescue their kidnapped family from a dangerous crime syndicate after $50M of illegal diamonds gets stolen.
Directed by Asif Akbar, the film stars Donald "Cowboy" Cerrone, Chael Sonnen, Quinton "Rampage" Jackson, Weston Cage Coppola, Chris Maher, and William McNamara.
"Mojave Diamonds" is set for release on digital, on demand, and DVD May 30, 2023.