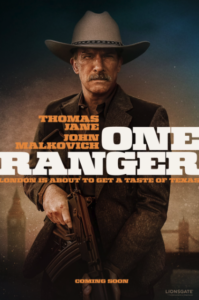 It follows a Texas Ranger Jane as he is recruited by British Intelligence to track down a dangerous terrorist and stop him from attacking London.
In the film, British Intelligence meets Texas Justice in this white-knuckle action-thriller. A gunslinging Texas ranger (Thomas Jane) tracks a bank robber (Dean Jagger) across the desert— only to discover he's an international terrorist set on detonating a bomb in the heart of London.
When the lawman's partner is killed, he is drawn into partnership with a British intelligence agent (Dominique Tipper) and her boss (John Malkovich) to bring the outlaw to justice — dead or alive.
"One Ranger" is set for release in select theaters, on digital, and on demand May 5th.
Directed by Jesse V. Johnson, the film stars Thomas Jane ("The Expanse," The Punisher, Boogie Nights), John Malkovich (Mindcage, Red, In The Line of Fire), Dominique Tipper ("The Expanse"), and Dean Jagger ("Warrior," "See").