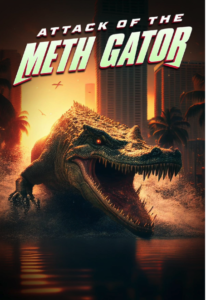 In the tradition of the season's surprise hit "Cocaine Bear", comes a new film that's similarly going viral: "Methgator".
"Hold our bear…I mean, beer. Coming for your life this summer," as posted from the official twitter page of The Asylum, the film studio behind the film.
In a 2019 news bulletin, police warned residents to refrain from flushing methamphetamine down the toilet to prevent "meth-gators." Down in Sweet Water Point, Florida, they didn't listen.
Starring Robbie Rist (Oliver from The Brady Bunch) and Patrick Labyorteaux (Little House on the Prairie), the recently recently wrapped production in the swamps of Florida, "Methgator" is set to be released this summer.
From the creators of "Sharknado", The Asylum has long been known for their mockbusters. This year, the company kicked off their 25th Anniversary by throwing a private party on the Santa Monica Pier, attracting thousands of industry VIPs… and also a full power outage.