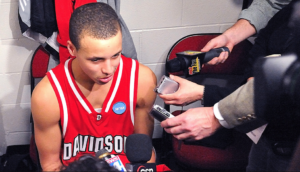 Award-winning filmmaker Peter Nicks documentary is an intimate look at NBA superstar Stephen Curry's improbable coming of age at tiny Davidson College, where, under the wing of coach Bob McKillop, the team made a thrilling run in the 2008 NCAA tournament. With access to Curry throughout the 2021 season, the film also weaves the Golden State Warriors' attempt to win another NBA championship following one of the worst seasons in franchise history.
The documentary "Stephen Curry: Underrated" is an official selection of the Special Screenings section at the 2023 Sundance Film Festival. It is an Apple Original Films along with A24.
The film is a remarkable coming-of-age story of one of the most influential, dynamic and unexpected players in the history of basketball: Stephen Curry.
This feature documentary, blending intimate cinéma vérité, archival footage and on camera interviews, documents Curry's rise from an undersized college player at a tiny backwater Division I college to a four-time NBA champion, building one of the most dominant sports dynasties in the world.