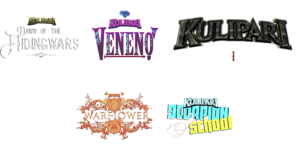 Kulipari Hops Into San Diego For Its First-Ever Comic- Con Panel Featuring the World Premiere of the Live Action 3D Epic Army Of Frogs on July 21 at 1:30PM
Trevor Pryce's critically acclaimed multimedia franchise Kulipari makes its debut at San Diego Comic-Con this month, taking over Room 6A with an action-packed panel on Sunday, July 21 at 1:30pm.
During this unforgettable event, series creator Trevor Pryce, star Josh Keaton, directors Jay Oliva and Jessica Pease, and producer and writer Joshua Starnes will be on hand to provide priceless insight into the future of the beloved brand and IP—including plans for upcoming films and series—and unveil five all-new Kulipari trailers and shorts from international animation and production studios such as Tiger Animation, Lex And Otis, Hype Studios, Moreframes, and OVFX—an offshoot of Outlook Company, Pryce's Baltimore-based multimedia organization.
The hour-long presentation is headlined by the world premiere of the live action 3D reimagining of the groundbreaking hit that started it all: An Army Of Frogs.

Kulipari is the thrilling chronicle of several unique and diverse species as they fight for power and survival in the Australian Outback. Pryce wrote the award-winning young adult novel and comic series Kulipari: An Army Of Frogs following his celebrated 14-year career in the National Football League. Kulipari was later adapted into a popular animated series by Netflix in 2016, featuring the voice talents of notable stars such as Mark Hamill, Keith David, Lacey Chabert, Phil LaMarr, Wendie Malick, Laraine Newman, and Charlie Adler. In its second season, Kulipari: Dream Walker, film icon Mark Hamill earned a Daytime Emmy nomination for Outstanding Performer In An Animated Program.
Outlook Company recently completed a development deal with Cinedigm (NASDAQ: CIDM), which will include an all-new digital-first network created by Pryce and his talented team. The channel will allow viewers to once again return to the Kulipari universe with afternoon and evening blocks dedicated to the series, and featuring new and original content created by OVFX. In addition to Kulipari programming, the channel will highlight a morning block for preschool children, and an adult-oriented late night lineup focusing on podcasts, music, animation, and pop culture.
"I am so proud to bring Kulipari to Comic-Con for the first time ever," Pryce said. "We're excited about showing it all to the Comic Con audience. Not only what we're doing with Kulipari, but also what our studio OVFX has pulled off in reimagining Kulipari as not just a live action feature, but also as an all new animated comedy."