By Creative Media Times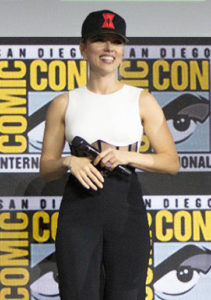 Forbes has recently published its annual rankings of highest paid actors and actresses, with Dwayne Johnson and Scarlett Johansson, somewhat unsurprisingly topping the lists respectively.
During the 12-month period, Johnson earned 89.4 million, between June 1, 2018, and June 1, 2019. "The Rock" has recently appeared in the Fast & Furious spin-off Hobbs & Shaw, last year's Skyscraper, and Fighting with My Family, produced this year's Shazam!, and has endorsed sportswear Under Armour. He is set to appear in this year's Jumanji: The Next Level with co-stars Kevin Hart and Jack Black.
Though Johansson earned $56 million during the same period, that amount ranks 7th overall, behind her Marvel co-stars Christ Hemsworth, Robert Downey Jr, and Bradley Cooper. Johansson's earnings is bolstered by "Avengers: Endgame" which recently became the highest grossing film of all time. She's set to reprise her Avengers role in next year's Black Widow.
Highest-Paid Actresses Of 2019
10. Ellen Pompeo – Earnings: $22 million
9. Charlize Theron –Earnings: $23 million
8. Margot Robbie – Earnings: $23 million
7. Elisabeth Moss – Earnings: $24 million
6. Kaley Cuoco – Earnings: $25 million
5. Jennifer Aniston –E arnings: $28 million
4. Nicole Kidman – Earnings: $34 million
3. Reese Witherspoon – Earnings: $35 million
2. Sofia Vergara – Earnings: $44.1 million
1. Scarlett Johansson – Earnings: $56 million
Highest-Paid Actors Of 2019
10. Will Smith – Earnings: $35 million
9. Paul Rudd – Earnings: $41 million
8. Chris Evans – Earnings: $43.5 million
6. Adam Sandler (tie) – Earnings: $57 million
6. Bradley Cooper (tie) – Earnings: $57 million
5. Jackie Chan – Earnings: $58 million
4. Akshay Kumar – Earnings: $65 million
3. Robert Downey Jr. – Earnings: $66 million
2. Chris Hemsworth – Earnings: $76.4 million
1. Dwayne Johnson – Earnings: $89.4 million